Luxurious First-Class Airlines That Travelers Love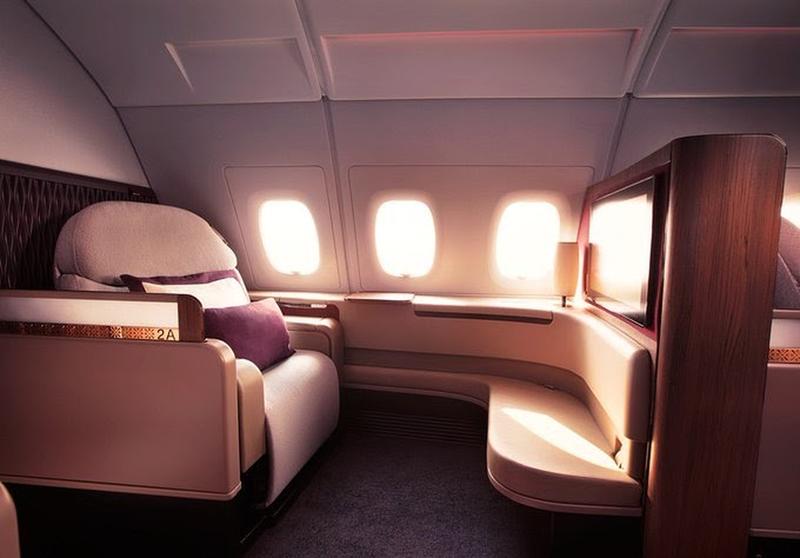 Trade those cramped seats and complimentary snacks for spacious beds, private rooms, personal butlers and an endless supply of champagne! Many airlines offer first-class services, but some airlines go above and beyond expectations.
Check out the glitz and glamour of flying. Here are luxurious first-class airlines that travelers love. You'll be tempted to treat yourself after this.
Singapore Airlines
Setting the standard for first-class experiences, Singapore Airlines is well-respected and admired for its crazy-rich suites.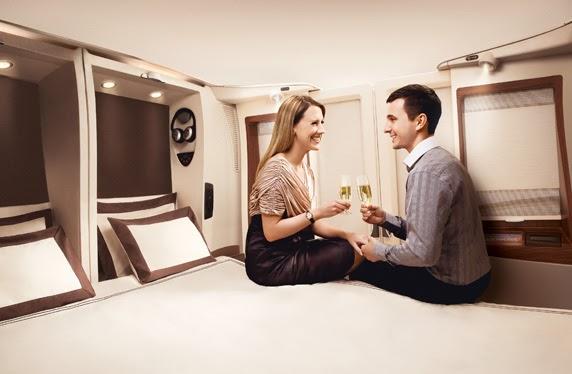 Travelers describe the innovative suites as lavish hotel rooms. At 50 square feet, a single suite comes with enormous seats, fancy lighting, 1,000 entertainment options, a flat bed and an expansive food menu created by famous international chefs. With extras like these, it's clear to see why Singapore Airlines oozes luxury.
The service is unbeatable, starting as soon as you arrive at the airport. An employee greets and escorts you through immigration to the first-class lounge. Another employee takes you to the plane, where a smiling crewmember tends to your every request like a butler. Bring on the food and wine, please.
Etihad Airways
Known as the flag carrier of the United Arab Emirates, Etihad Airways features a ritzy first-class cabin with massive "apartment" suites. A swanky leather recliner, 6-foot 10-inch bed, private space and in-flight showers are some of the luxuries you get when flying with Etihad.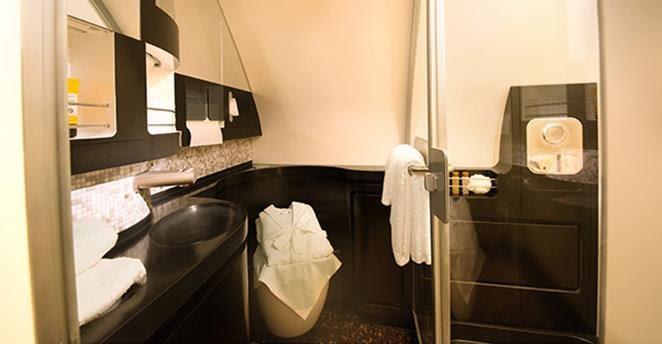 Want more space? The "Residence" suite offers three rooms, which include a classy living room, a stylish bedroom and an enormous bathroom. First-class customers also receive personal butlers and exceptional chefs who cook meals catered to their every wish. Humidifiers balance the air, while soundproofed floors reduce noise throughout the cabin.
If you want to take a break from your suite, head to the cabin's classy bar, where the fine wine keeps pouring and artisanal chocolates keep coming.
Cathay Pacific Airways
Hong Kong's Cathay Pacific Airways is all about comfort.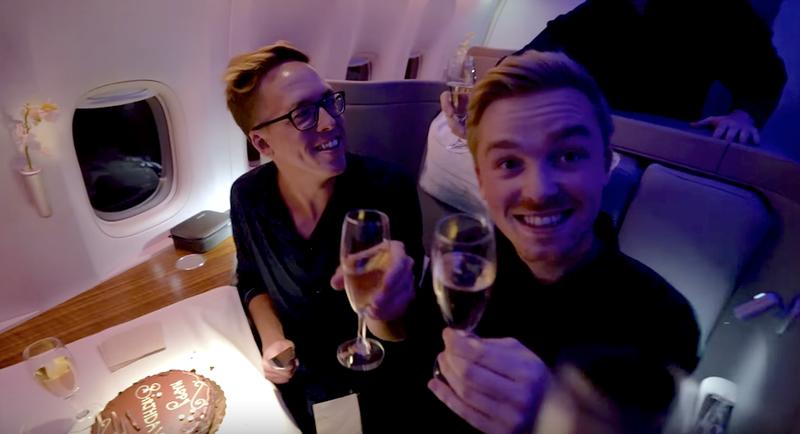 The enormous first-class seats come with organic cotton pajamas and a warm, cozy 500-thread-count duvet. That's not all. The seats provide several massage options and convert into flat beds, making Cathay Pacific a truly relaxing experience. You also don't have to get up for food. The aircrew serves hot, fresh jasmine rice right to you while you're watching movies on your own 17-inch TV screen.
At the HKG airport, Cathay Pacific owns more than one lounge. That's right. It boasts several lounges, each specializing in different yet top-notch services. For instance, "The Pier" lounge offers meals, yoga or meditation sessions, free foot massages and private cabanas for snoozing. "The Wing" boasts private showers or bathtubs and a bar with high-quality champagne.
Emirates
Like a flashy hotel room, Emirates' first-class suite is dripping in bling, offering a comfy bed, an in-flight shower and temperature and lighting controls for over-the-top comfort.
The fully private space boasts stunning gold features in every corner. Sliding doors, 32-inch TV screens, stocked minibars and leather seats inspired by Mercedes-Benz build a rich experience for first-class customers. Those sitting in the middle of the plane get virtual windows.
To order food or drinks, passengers can video chat with the aircrew or call for their private butler. It's easy to be happy with Emirates thanks to accessible entertainment systems and a mass supply of excellent champagne.
Qatar Airways
The airline's premium first-class service doesn't include private suites. But each customer gets a roomy, open-air space with sophisticated designs and decor.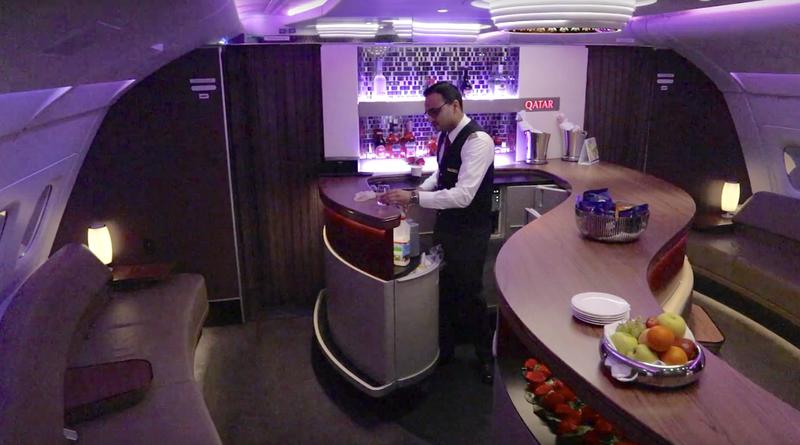 The cabin comes with soothing purple lighting (its signature color), 4,000 entertainment options, spacious seats that turn into mattresses and comfy duvets. With a drool-worthy menu, it's tough to choose between the filet mignon, seared scallops and shrimp kabob.
Qatar Airways has many fancy services, but the main attraction is the world's largest and best airplane bar on the plane. The inviting bar offers amazing canapés, great drinks and soft couches.
Air France
The French flagship carrier offers glamorous services for "La Premiere First Class."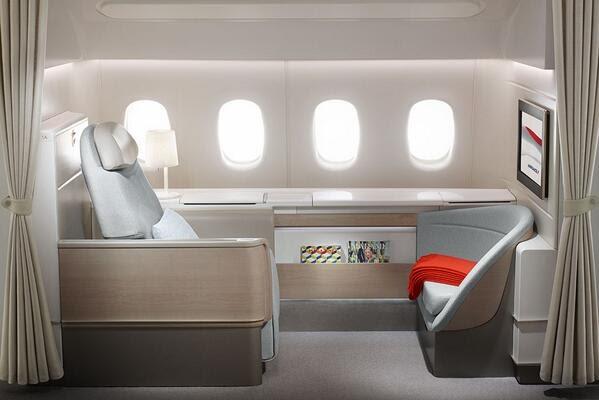 Its first-class features easily feel like luxury hotel amenities. For instance, the enormous seats convert into 6.5-foot-long beds, and the award-winning menus are created by world-famous chefs. There are also tons of entertainment options at your fingertips.
Pamper yourself with complimentary Carita beauty products, fancy cotton bathrobes, slippers and socks. Did we also mention the Wi-Fi is free?